Nutrition Knowledge Test
How good is your nutrition knowledge?
Can you tell just by looking at a meal whether it is a significant source of protein, fat, or carbohydrates?
Find out for yourself and compare your performance to others!
This test typically takes 10 minutes to complete.
This study is being conducted by the Intelligent Interactive Systems Group at Harvard University.
Nutrition Test
Please read the following information carefully before proceeding.
Why we are doing this research: We are trying to understand how to design online quizzes such that they help people learn useful knowledge in the process.
What you will have to do: You will be presented with a series of pictures of meals. For each you will be asked a nutrition-related question. At the end of the study you will be able to compare your performance to that of others. Your participation in this study is completely voluntary, and you may refuse to participate or withdraw from the study without penalty or loss of benefits to which you may otherwise be entitled.
Potential risks: There are no risks anticipated in taking part in this study and you are free to leave at any time without penalty or loss of benefits to which you are otherwise entitled.
Privacy: Your responses will be kept anonymous. We do not collect any information that could be used to directly establish your identity.
Duration: Approximately 10 minutes.
To contact the researcher: If you have questions or concerns about this research, please contact Prof. Krzysztof Gajos, Maxwell Dworkin 251, 33 Oxford St, Cambridge, MA 02138, kgajos@seas.harvard.edu.
Whom to contact about your rights in this research, for questions, concerns, suggestions, or complaints that are not being addressed by the researcher, or research-related harm: Committee on the Use of Human Subjects in Research at Harvard University, 1414 Massachusetts Avenue, Second Floor, Cambridge, MA 02138.Phone: 617-496-2847 (CUHS). Email: cuhs@fas.harvard.edu
Please print or save a copy of this page for your records.
By clicking the "I agree" button you confirm that you have read and understood the above and agree to take part in this research. Your participation is voluntary and you are free to leave the experiment at any time by simply closing the web browser.
Instructions
You will be presented with pairs of photographs of meals. For each, we will ask you a nutrition-related question like this:
Please pay attention to the description below each image. It is often hard to see all the ingredients in the photograph. The descriptions will help you figure out what the main ingredients of the meal are.
Your job is to answer the questions as accurately as possible. For some of them (but not all), we will give you immediate feedback on your answer. At the end of the study, we will tell you how well you did and how your score compared to others.
The Meal Assistant
Sometimes, you will see a recommendation from a Meal Assistant, which is an experimental computer system that can analyze the nutritional content of meals. The Meal Assistant is right most of the time but not always. You are welcome to consider its recommendations, but you should make whatever decision you think is best.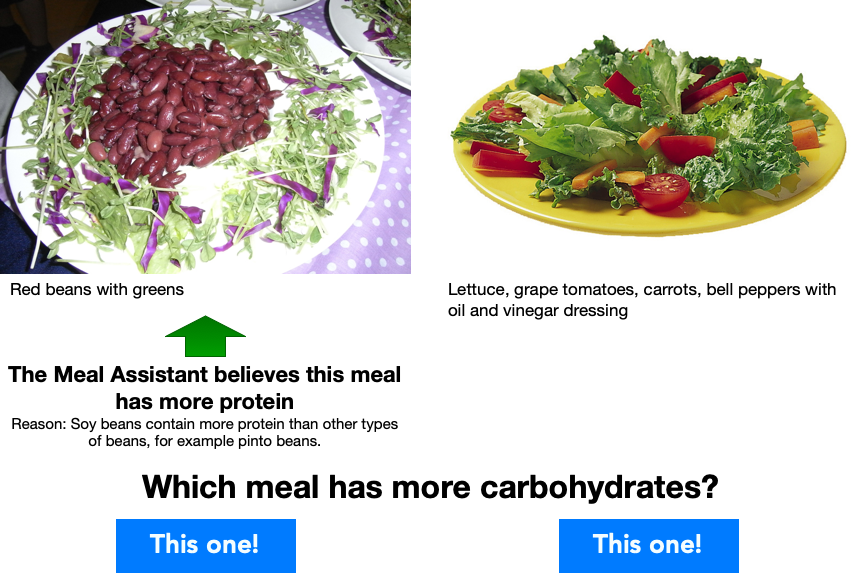 Question out of
Question goes here
(Assume equal portion sizes)
I am confident this is the right answer
Move the slider to indicate your answer
I am confident this is the right answer
Please refer to the meals by their descriptions, rather than locations (right/left) as those can change.
---
Thank you! Here are your results
According to our expert nutritionist, you got questions correct. Others, on average, got questions correct.
Here are your results presented separately for each macronutrient:

| | |
| --- | --- |
| Carbohydrates | |
| Protein | |
| Fat | |
| Fiber | |
Click here to see the questions you didn't get quite right
Enjoyed this study?
If so...
1. Please tell your friends about this test
2. You can follow us on Facebook to see results of our studies and to be among the first to hear about new tests.
3. And check out LabintheWild for more test!
If you have any additional thoughts you'd like to share about this test, please email kgajos@eecs.harvard.edu.